Review: General Original Portion
When you think about Swedish Snus, there's one brand that always comes to mind: General. General is, without a doubt, the most well known snus brand out there. And, for good cause! Every can packs an incredible high product quality and showcases the true heritage and history of Swedish Snus with every portion. The side of the can even bears the moniker "The Original Swedish Snus" to denote it's important place in the history of snus. But what makes this one so great, and so popular? Well, today we're going to dive in and check it out!

Popping off the top lid you'll find this one has a standard catch lid for discarding your used portions if you aren't near a trash receptacle. According to the details here on SnusExpress.com, this one is "an iconic and popular original portion snus from General with a traditional snus flavor of spicy tobacco topped by a touch of bergamot." This bottom of the can notes that this one has a can weight of 24 grams. I counted 24 portions in the can, meaning each portion weighs 1 gram each. The nicotine strength sits at 8mg/g (0.8%), which is an easy 8mg per portion.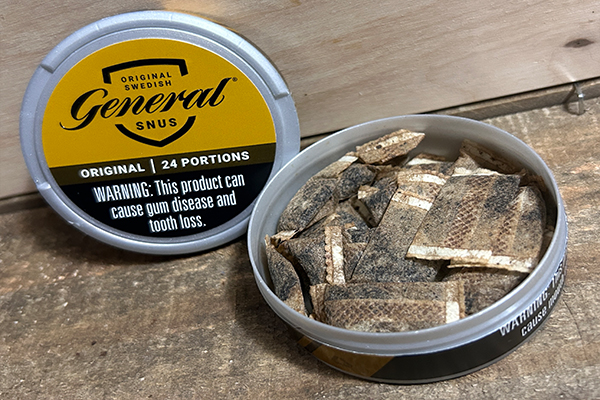 When I first got into snus, I wasn't the biggest fan of General. But it quickly grew on me, and became one that I use every day. With every pouch, you can really feel and taste the quality in this one. In the aroma I notice a rich, dark tobacco character complimented by tart notes of bergamot. It has a slight hay-like quality to it, and smells fantastic. Each pouch is nice and plump, with just enough moisture that you get a quick release of flavor, but not a super heavy drip. The flavor is top notch. Bergamot is a great compliment to tobacco, accentuating the dark, rich tobacco character. The bergamot is tart, but not overbearing. I pick up a subtle saltiness to it, along with spicy notes of pepper. The nicotine strength on this one sits right at the regular level, and has a steady, stable, comfortable release to it. In the flavor longevity department, you'll be able to enjoy this one a solid 40-45 minutes!
The Bottom Line
It's no secret that I'm a big General fanboy. But, that's not without cause. The General line is truly top notch. It exudes quality. With every portion, you can really experience something special. You get a high quality, long lasting flavor with a comfortable, steady release of nicotine. If you like the taste of tobacco, you'll notice how perfect bergamot compliments it with this snus. If you've never had General before, you owe it to yourself to grab a can!
You can find and buy your own General Original Portion here!