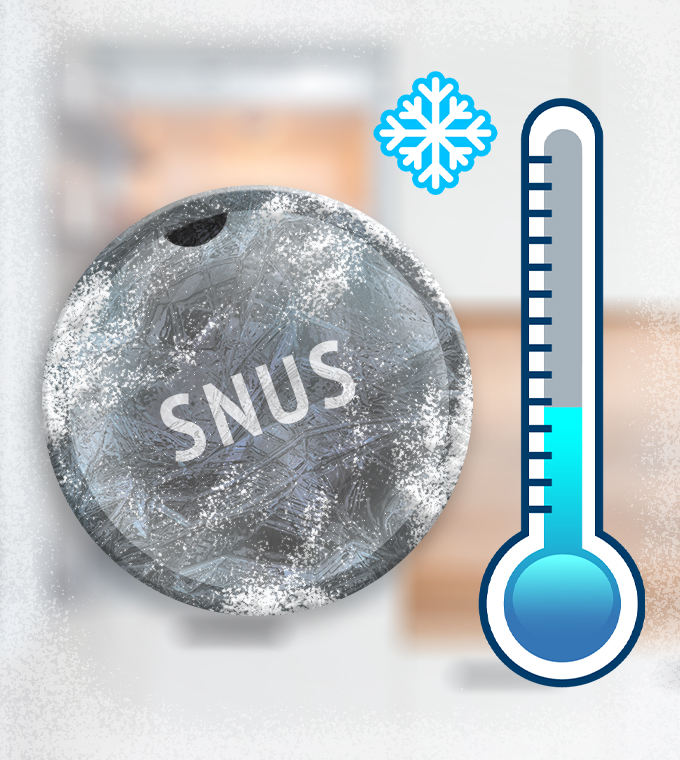 How to store snus?
Snus is a tobacco product that originated in Scandinavia and has a long history there. Everyone there knows that snus belongs in the refrigerator - even in stores it is offered for sale in a large refrigerator with a glass door right by the cash registers.
But how do you make it at home? In this blogpost you will learn how to extend the shelf life and freshness of snus and why it is important to put snus in the fridge.
How to store snus and chewing bags properly?
To extend the shelf life, snus should be stored in the refrigerator. Ideally, the temperature should be between 4 to 8 degrees. Why should snus be refrigerated? Snus is a moistened product, by storing it in the refrigerator it remains moist and does not dry out. Loose snus in particular benefits from refrigeration. It also has the shortest shelf life of three to four months from production. In the refrigerator you can usually store loose snus up to 14 weeks, but you should definitely keep an eye on the expiration date on the packaging. Original portions can be stored for up to 20 weeks. For White Portions, White Dry Portions or tobacco-free snus or Nicotine Pouches it is about 50 weeks, because this is already a little drier from the beginning and therefore lasts longer.
Those who want or need to store snus outside the refrigerator should make sure that it is in a cool location. Snus should not be exposed to direct sunlight or too much heat, as it negatively affects shelf life, as well as flavor and nicotine content. White Portions or White Dry Portions are less sensitive to drying out, these varieties are also much longer lasting than snus in original portions.
Why should snus and chewing bags be stored in the refrigerator?
Snus cannot go moldy due to the use of the salt, however the moisture level of snus can change. When you put snus under your upper lip, the effect of nicotine unfolds through saliva, nicotine is absorbed through the mucous membrane of the mouth. Therefore, Original Portions have a fast release, and White Portions less fast, but longer lasting. If the product is dried out before, the taste and consistency may change, so quality losses are to be expected: the aroma decreases, and after a while the strength as well.
How to extend the shelf life of snus and chewing bags?
Storing snus in the refrigerator is one way to extend the shelf life. It is best to put your snus in zip lock bags, because they can be sealed airtight. If you make a bulk purchase of snus to take better advantage of the great deals we offer, you can freeze snus for up to 12 months, also pack in zip lock bags please. Before use, you should let your loose snus thaw in the refrigerator because of the cardboard boxes and condensation. Portion snus can be thawed at room temperature.
Do you have any more questions regarding snus and chewing bags? Get in touch with the SnusExpress customer service!